St. Catherine of Siena Catholic School Child Care Partner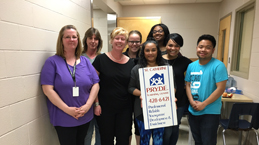 We are pleased to partner with P.R.Y.D.E. Learning Centre to provide a full service child care centre and before and after school child care at St. Catherine of Siena Catholic School. Call our child care partner at 905-428-6421 to learn more about our services.

Learn More...
School Contact
15 Bennett Ave., Ajax, ON L1T 3P1
OSR REQUESTS
email:stcatherineofsienacs@dcdsb.ca
Phone: 905-427-6105
Fax: 905-427-7531
Board Website | Bullying Report
Principal: Kathryn Hadden
Administrative Assistant:
Karen Bou-Ghannam
---
Hours
8:40 a.m. - School begins
10:05 - 10:20 a.m.- Morning recess
11:25 a.m. - 12:25 p.m. - Lunch Hr.
11:25 a.m. - 12:05 pm - Outside
12:05 p.m. - 12:25 p.m. - Eating
1:50 - 2:05 p.m. - Afternoon recess
3:10 p.m. - Dismissal